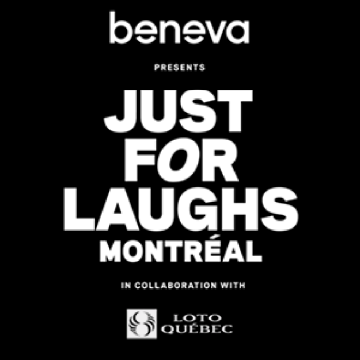 THE WORLD'S MOST PRESTIGIOUS COMEDY FESTIVAL,
JUST FOR LAUGHS
MONTRÉAL
REVEALS PLANS FOR A HYBRID
2021 DIGITAL AND IN-PERSON FESTIVAL
FOR THE FIRST TIME IN JUST FOR LAUGHS HISTORY,
THE REVERED FEST WILL BE STREAMING STAND-UP SHOWS
FROM MONTREAL, LOS ANGELES AND NEW YORK CITY
KEVIN HART'S GLOBAL COMEDY BRAND AND MULTI-PLATFORM ENTERTAINMENT COMPANY LAUGH OUT LOUD (LOL) RETURNS AS OFFICIAL FESTIVAL PROGRAMMING PARTNER
THIS YEAR'S FESTIVAL WILL ALSO INCLUDE,
STAND-UP SHOWS - JUST FOR LAUGHS AWARDS SHOW - NEW FACES SERIES- SPECIAL EVENTS - BELL MEDIA TAPINGS - JFL ORIGINALS TAPINGS - VARIETY'S 10 COMICS TO WATCH - EAT MY SHORTS - PITCH SESSIONS -
AND 15 MINUTES WITH A POWER BROKER!
Montréal, May 5, 2021 - Just For Laughs MONTRÉAL presented by Beneva born from the coming together of La Capitale and SSQ Insurance, in collaboration with Loto-Québec reveals plans to move ahead with a hybrid 2021 festival this summer to take place from July 26-31. ComedyPRO, the most elite comedy industry conference that unites the world's biggest players will be 100% digital this summer, running from July 28-31. Both events will be taking place during the previously announced Juste Pour Rire MONTRÉAL, running from July 15-31, 2021.
In monitoring the status of international travel and abiding by all public health and safety guidelines, JFL is ready to satiate the hunger of comedy enthusiasts and industry tastemakers, by reconnecting everyone through a unique hybrid digital and in-person festival programming with just over 200 artists participating. All digital offerings from JFL, with the exception of ComedyPRO, will be made free to the public.
LAUGH OUT LOUD (LOL)
Returning for a second year, Kevin Hart's global comedy brand and multi-platform entertainment company, Laugh Out Loud (LOL), will serve as the official programming partner for the Just For Laughs MONTRÉAL. LOL will be curating a robust lineup of can't-miss comedic programming dedicated to celebrating top-tier talent and emerging comedians from their very own comedy room within the festival.
STAND-UP SHOWS
Knowing that Montreal attracts thousands of visitors each summer for the biggest comedy festival in the world, JFL programmers are working tirelessly to create an inclusive digital experience for this year's fest that will welcome comedy fans from around the world to join in on the laughs!
This year, for the first time in 39 years, the 2021 Just For Laughs MONTRÉAL will be incorporating stand-up performances from cities outside of Montreal, including performances from multi-comic lineups to concept shows from Montreal, Los Angeles and New York City.
JUST FOR LAUGHS AWARDS SHOW
Returning this year is the prestigious JFL Awards Show, honouring the best in the business. Usually an insider event only, the festival will stream the awards show for the first time ever, allowing fans to join in the celebration. This year's show will be 100% virtual, available for all audiences to stream free.
The Just For Laughs Awards Show is always a ComedyPRO programming highlight, where the biggest names in comedy pay tribute to each other in an intimate ceremony featuring the most elite and influential players in the industry. This year more than ever, JFL is excited to honour some key comedic talent that have continued to entertain audiences despite the most challenging of circumstances.
BELL MEDIA TAPINGS
Just For Laughs and Bell Media are once again partnering on new Original stand-up comedy specials featuring a collection of the funniest Canadian comedians working today. Filmed in Montreal, the specials will air or stream exclusively across Bell Media platforms.
JFL ORIGINALS TAPINGS
The Just For Laughs record label JFL Originals will also be a part of the 2021 festival in Montreal. Including some of the very best comedians in Canada, JFL Originals will be audio-recording live multi-comic showcases in downtown Montreal in late July. Content produced from these recordings will be released worldwide in album format in the autumn of 2021.
JFL ORIGINALS TAPINGS
ComedyPRO, the most elite comedy industry conference that unites the world's prominent players will be 100% digital this summer, running from July 28-31
NEW FACES
New Faces has been an unmissable part of the Just For Laughs MONTRÉAL since 1996, where the freshest comedians in the game gear up to take the microphone and change the face of comedy. The discoverability of this series is what makes these showcases so sought after, and despite all of the global challenges faced this year, JFL is committed to finding new rising talent. As a result, festival scouts have been on the lookout, busy searching for the next comedy stars from across the US and Canada to include in this year's cohort.
For the first time ever, this year's New Faces series will feature showcases taped in Montreal and Los Angeles. Auditions have begun in North America, with the most recent in Austin, Texas this past weekend; and additional ones planned in the coming weeks. Each showcase will be simultaneously live streamed online for comedy connoisseurs' international viewing pleasure. The showcases this year will include New Faces 1&2, New Faces Canada, and New Faces Characters.
VARIETY'S 10 COMICS TO WATCH
Variety's "10 Comics to Watch" is one of the biggest events in the comedy world! This year, Variety is returning to showcase their annual "10 Comics to Watch" in the festival's hybrid format, released for on-demand viewing pleasure for audiences across the world. Catch the best and brightest comics during this very special showcase!
EAT MY SHORTS
Just For Laughs MONTRÉAL has been on the search for the funniest short films from around the world to showcase in this year's Eat My Shorts, the festival's staple short film competition. The top films from this year's competition will be screened and voted upon by a jury of programming experts to be announced at the screening. This year's Eat My Shorts competition will be released online to view on demand as part of this year's ComedyPRO programming. Eat My Shorts is made possible with the support of Telefilm Canada.
STAND UP & PITCH
Just For Laughs MONTRÉAL, Project 10 Productions and Stareable Fest have invited comedians, writers, creators and producers on the cutting edge of comedy to present their series ideas to a panel of industry experts in a secure and virtual setting as part of this year's 100% virtual ComedyPRO.
From Set to Screen: TV, OTT, SVOD and More presented by Project 10 Productions and Beyond The Box: Playing It Short presented by Stareable Fest will be streamed online and accessible to registered passholders as part of Just For Laughs ComedyPRO
15 MINUTES WITH A POWER BROKER
Industry passholders participating in the 2021 ComedyPRO programming are invited to 1:1 meetings with power brokers, one of the conference's most coveted highlights. This year's meetings will take place online, as part of the conference's 100% virtual format. 15 Minutes With A Power Broker is presented with the participation of the Independent Production Fund.
We're just getting started!
We are pleased to announce that Juste pour rire MONTRÉAL will return to the Quartier des spectacles in Montreal starting July 15th, 2021. Juste pour rire will ensure all the applicable sanitary measurements are in place to provide a series of in-venue shows with live audiences, including a newly revised version of the notorious Soirées Carte Blanche. The full programming is to be announced in the coming weeks, and will put at the forefront local and international talents, as well as up-and-comers. Additionally, Juste pour rire MONTRÉAL will once again offer its online programming 100% for free!
Determined to keep our dedicated comedy fans entertained until we can all reunite safely in Montreal for our 40th anniversary, this year's Just For Laughs MONTRÉAL will be one to attend!
In the coming weeks, more exciting programming news and details on the 2021 Festival's star-filled roster of artists will be announced.
THANKS TO OUR PARTNERS
The Just For Laughs Group would like to thank all its partners, who have been tremendous allies in bringing about the success of this initiative. First, we'd like to acknowledge the support of Beneva, born from the coming together of La Capitale and SSQ Insurance, Loto-Québec, Bell, Tim Hortons, CTV Comedy Channel and Variety. We also extend our thanks to our public partners: the City of Montréal, SODEC and the Government of Canada.
We are very pleased to contribute to the 2021 edition of Just For Laughs MONTREAL, a summer festival that will undoubtedly bring a smile to everyone's face in these unprecedented times." At Beneva, we put people first and at the core of our actions. Supporting a safe and entertaining family-friendly event such as Just For Laughs fits nicely with our company's values," said Martin Robert, Executive Vice-President of Talent, Culture and Communications at Beneva, a company born of La Capitale and SSQ Insurance.
Find us on social #JFLFestival
Facebook: @justforlaughs
Twitter: @justforlaughs
Instagram: @justforlaughs
About the Just for Laughs Group
Founded in 1983, the Just for Laughs Group is the most important player in the global comedy industry. Under the management of Groupe CH, Bell Media and ICM Partners, the company is an international powerhouse in the creation of multi-platform comedy content. Every year, it entertains millions of spectators with its festivals on Canadian and international stages, in Montréal – the biggest comedy event in the world – as well as in Toronto, Vancouver, Sydney and Bermuda. The Group organizes shows featuring thousands of comics from Canada and other countries, including established artists as well as up-and-comers; stages its own comedy shows and musicals; produces touring shows; broadcasts digital and televised content (notably Gags, which is shown in 150 countries and followed by an online audience of ten million on YouTube); manages talented artists; and is the originator of the ComedyPRO and JPR Pro industry conferences. www.hahaha.com
About Laugh Out Loud
Laugh Out Loud is a comedy brand and multi-platform entertainment company founded by the world's top comedian Kevin Hart. Through comedy in color, LOL unites a diverse, global audience around an essential connective tissue: LAUGHTER. From stand-up legends to the next generation of comedic talent, Hart and LOL curate comedy's boldest voices to produce original scripted and unscripted series, stand-up specials, live broadcasts and experiential activations. To Laugh Out Loud, Hart brings the groundbreaking social strategy that earned him 100 million+ followers, sold out 2018's biggest comedy tour in the world, and continues to break box office records. For more, visit LaughOutLoud.com